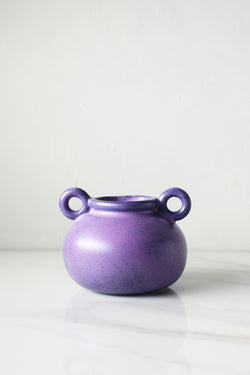 Aubade Bud Vase (Preorder)
With a gentle nod to classical Greek forms, our bud vase is made to set off a soft but striking table setting in the modern home.
Glaze: Aubade, a luminous satin-finish purple glaze, featuring lilac highlights and rich speckled undertones of Prussian blue.
Size: Vase,  4 1/2 inch w, 3 1/2 inch h 8 oz.
A Note About Pre-Order: To avoid selling out during the launch for our new glaze, we've made all Aubade items pre-orders. We want everyone to be able to order the full amount in each shape that they've been waiting for! We estimate delivery times to be 3-4 weeks from the time your order is placed, we appreciate your patience in advance and can't wait for you to see these pieces! 
Care: All Luvhaus Ceramics are made of high fire stoneware and are designed to stand the test of time and use in a modern kitchen. Please feel free to use in microwaves and dishwashers.

Our glazes are custom formulated in house, with the goal of capturing something unique. PLEASE NOTE: each piece is truly one of a kind and finishes vary. 
A note on Matte glazes:

All matte glazes by nature are more prone to cutlery-marking. Over time they can develop a delightful patina - gentle reminders of the delicious meals and special moments celebrated around a table with friends and family. Regular cleaning with a soft scrub cleaner will greatly reduce or eliminate this patterning. 
To learn more, and for cleaning product recommendations please visit our Care page.